Record Flexibility
Most dairymen know that DHI records can make them money. Unfortunately, many still associate the service with being a major hassle. We make record keeping easier for you. You set your testing schedule and testing days, months in advance if you want. You can test as frequent of infrequent as you want. Make your records fit your management style. If you want to test every other month, we can do that too. AM/PM factors allow testing only one milking a month. We can accommodate herds that milk some cows 6x daily, other 3x, and another group 2x.

If you have electronic meters and only want fat, protein, and SCC info, we can do this with a component only testing. A bigger bonus is that you can download this information into most herd management software programs, to be combined with your own milk weights.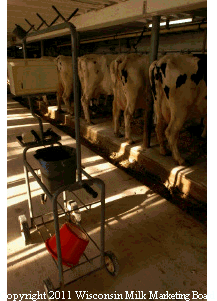 Testing Programs
There are many different testing programs that we offer. They include:


Traditional:
Where one of our certified Field Technicians come to your farm monthly for each milking in a 24 hour period to record the weights and take the milk samples for you. This may be an option for those who lack the help or employees, are looking for official records for their herds, or for other reason.


Owner Sampler:
For those who want to test their own animals without a field technician present. The dairymen takes the milk samples and weights of each animal at each milking within a 24 hour period.


AM/PM:
Weights are taken at both the AM and PM milking s, but the milk weights are obtained at both AM and PM milkings, but samples are only taken at one of the milkings. This sample taking is alternating on consecutive test days. For herds milking three times a day, milk weights are obtained from all three milkings, but samples are taken from only one milking.


ProfitTest:
If all you want is the raw milk weight and components, then this is the program for you. It is the least costly of all of the programs. You can also get this information electronically, to download into most herd management software. The ProfitTest might be a way of seeing if DHI testing is right for you and your operation.
There are two ways to get you r reports, electronic or printed.

Electronic: We can electronically send your reports via DairyCOMP305 software.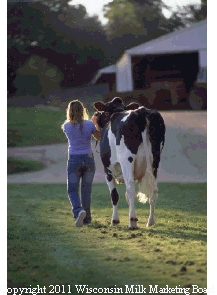 Paper: There are numerous types of printed reports you can get. They are flexible to meet the needs of your operation. We utilize AgSource for our Dairy Records Processing. Here are some of the reports available (links are available for some of the reports):
Herd: Herd Summary, Udder Health Management Summary, String Summary, and more.
Cow: Production Report, Sample Day and Lactation Report, Barn Report, Individual Cow Report, Barncards, Annual Animal ID, 365 Day Record, Herd Management Reports, and more.
Please check out the
AgSource DHI Reports
website for the different reports that are available to you. If you don not know what report you may need, please contact us or a Field Technician to help you select the right report for your operation.
AgSource DM


If you are looking for an economical yet powerful herd management program that lets you take your herd information everywhere, check out AgSourceDM. AgSourceDM is an internet based herd management program, allowing you the ability to access and modify your herd data from any internet ready device, including PC's, tablets and smartphones. All you need is an Internet connection to access and modify your herd information. There is nothing to install on your computer. You don't have to worry about backing up your data. Program enhancements and updates are done automatically and are at no cost to you. Test day is much simpler because your Field Technician can seamlessly import your herd data from AgSourceDM into their computer. That means less chance for data entry errors and more accurate management information. It works for herds of all sizes and is an economical choice for farms that do not want to make the investment into expense herd software such as Dairy Comp. Ask your Field Rep for more information.

Profit Opportunity Analyzer
Dodge County DHIA is one of the best organizations for utilizing the Profit Opportunity Analyzer report. Made by AgSource, the report was developed to provide dairymen and their consultants an easy to understand tool for identifying where they should focus their time and resources for the biggest return on their operation. Other dairymen have used it to successfully pursue loans for large investments, such as a new transition cow facility.
Jeremy Roll, one of our field technicians, has been trained on this report and handles all of our Profit Opportunity Analyzer customers. If you maybe interested in this unique tool to help you see what your operation should be focusing on, please contact us or check out
AgSource's
website for more information.